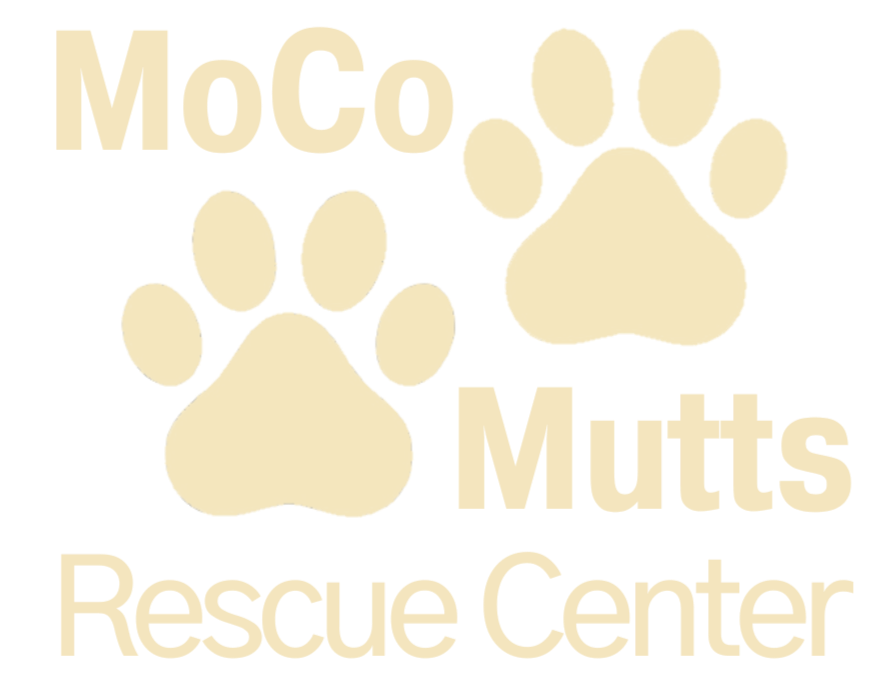 (423) 628-5060
"Through love, care and compassion, every dog and cat we help will know the safe, healthy and happy life they deserve."
Who We Are
MoCo Mutts is located in rural Morgan County, Tennessee. As one of the few counties in our state without an animal shelter or animal control, we attempt to fill a very large void for our community. Since 2018, MoCo Mutts, previously Senior Dog Lodge, has helped over 4,000 animals with medical care, sanctuary housing, fostering and adoption. We see first hand the horror that many of these animals encounter every day. They are lost, scared, abused or abandoned and it is our mission to alter their path. We reconnect the lost with their owners when possible, provide medical care when needed and find new, loving homes when necessary. We are a small non-profit trying to make a big impact in an area with few resources, but we believe that through caring and education we can change lives one wag at a time!MoCo Mutts is 501(c)(3) Non-Profit Organization.
---
Our History
Upon relocating to Tennessee in 2018 along with her Senior Dog Lodge Rescue founded in 2012, our founder Lisa Hill quickly realized no animal shelter existed in Morgan County. Not a day passed when she didn't hear about or come across a stray or abandoned dog in need. As word of the Senior Dog Lodge spread, it became apparent that the Rescue would need to expand and in 2020, we expanded into MoCo Mutts Rescue Center. Through the help of our fantastic community and volunteers, MoCo Mutts is dedicated to changing the lives of dogs across Morgan County.
---
Our Mission
MoCo Mutts' mission is to build a community where people value animals and treat them with respect and kindness. Whether young or old, we strive to provide each animal with a loving home through fostering, adoption, transport programs or sanctuary housing for those who are not adoptable.
---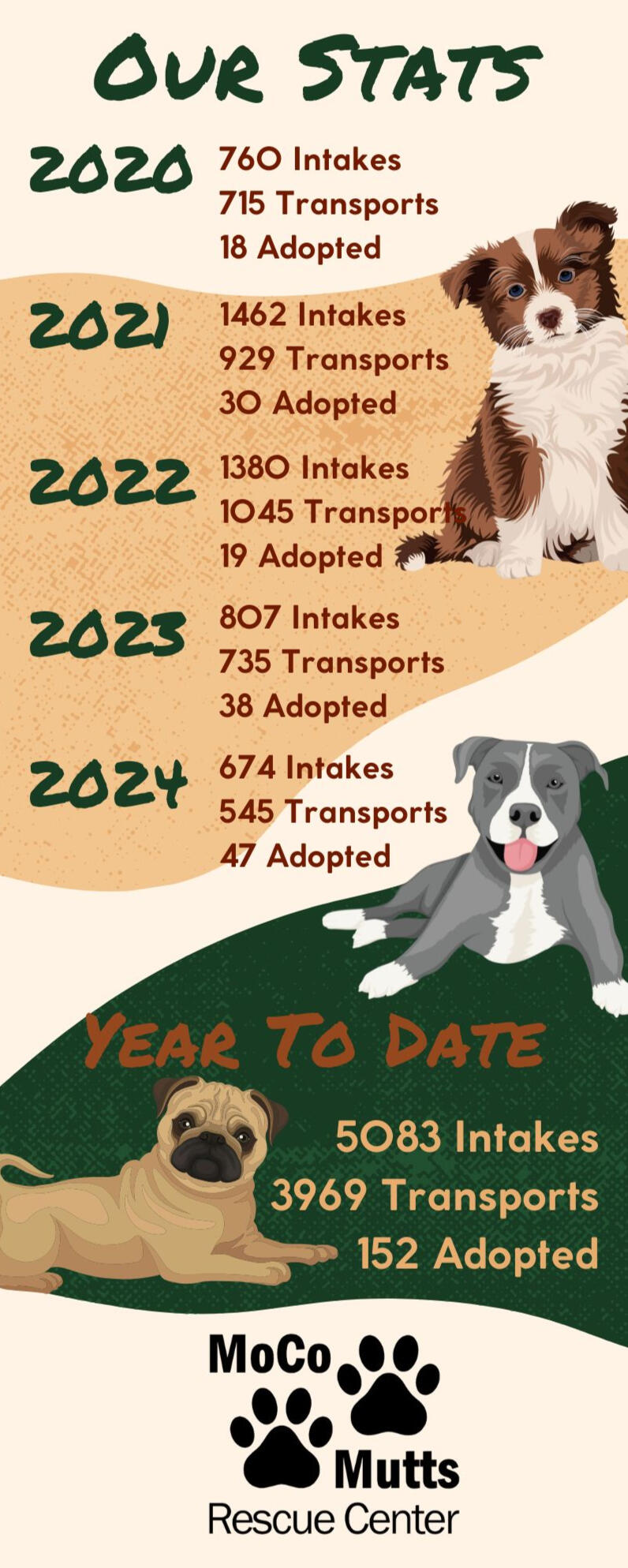 Our Team
Lisa Hill
Founder, President
Lisa Hill relocated here with her husband Jeff from Washington State. She had hoped to settle down in Morgan County with her own rescue, the Senior Dog Lodge, but quickly found that our county did not have any rescue or shelter. Word quickly spread about Lisa's fight to help the dogs and cats of Morgan County and MoCo Mutts Rescue Center, helping dogs and cats of all ages, was formed.
Tracy Wyant
Vice President
Tracy Wyant relocated here from Maryland with her husband Butch. Butch met Lisa when he found a stray and told Tracy all about what Lisa was doing. Tracy immediately went to work with helping Lisa expand from the Senior Dog Lodge into MoCo Mutts Rescue Center, even before she fully relocated to Morgan County. Her love and passion for the animals of Morgan County is now her full time job.
---
Frank Zappa
Kuzco, now "Frank Zappa," is such a sweet, funny, obedient love bug. He loves cuddling in the recliner with either of us and is friendly and loving to all he meets. Shelter dogs are the best! It's as if he says "thank you" with every wag and nuzzle. We love him so much! Thanks to MoCo Mutts Rescue Center for saving this boy and all the sweet babies like him.
Paula Marston, 7/8/2022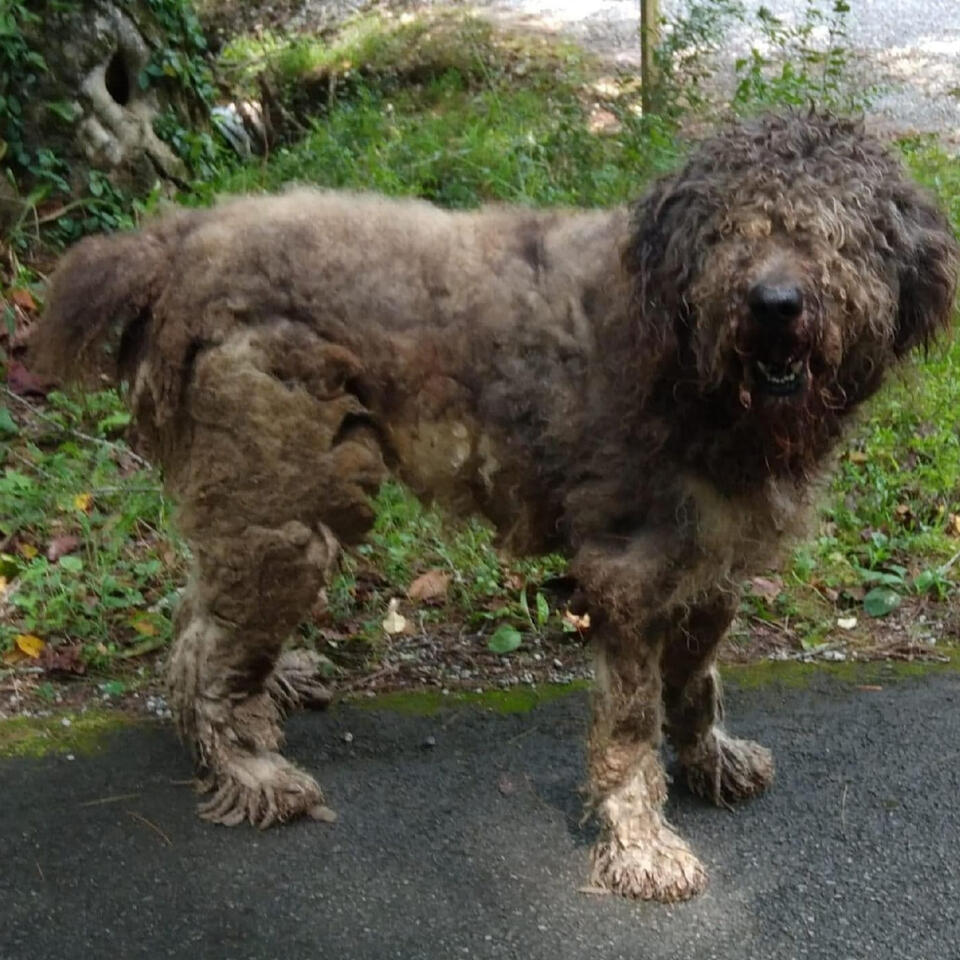 Kuzco when he first arrived at MoCo Mutts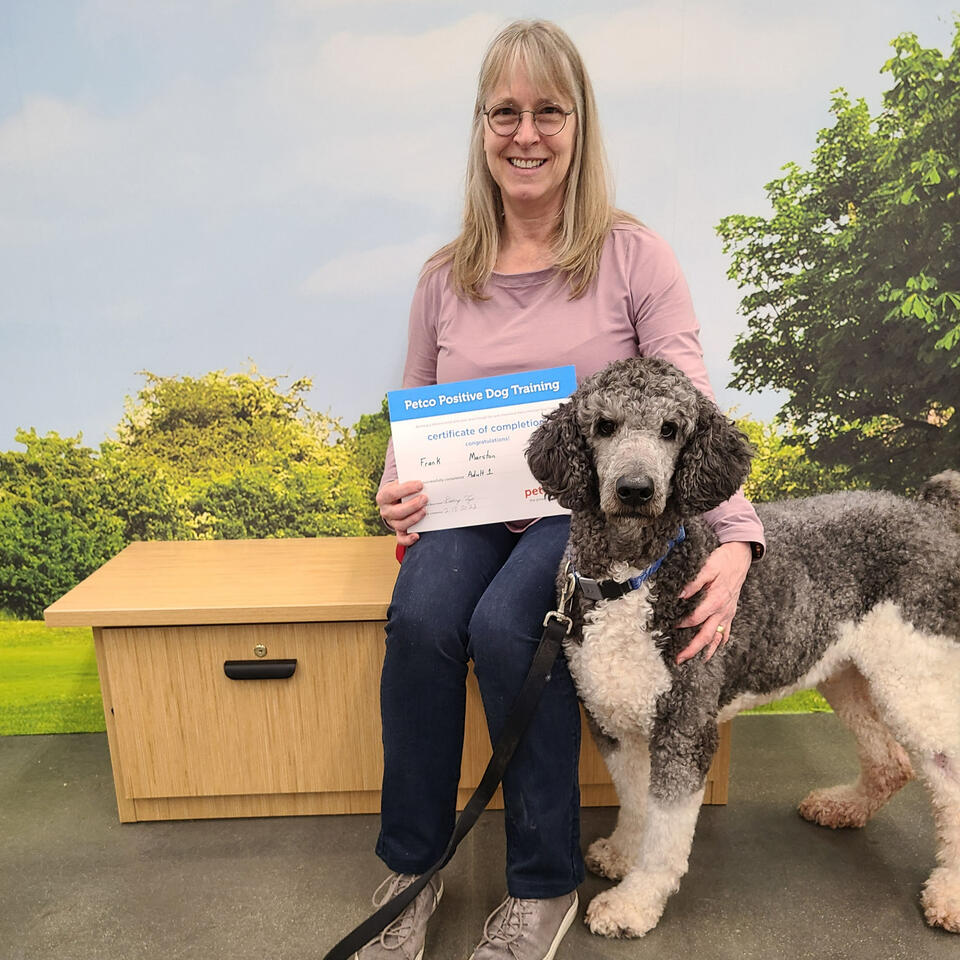 Kuzco now with his forever family!
---
Pickles
I couldn't be more appreciative to MoCo Mutts and all they do for so many animals in need. Our family recently rescued Pickles, whom we fell in love with at first sight! We couldn't be more happy with the amazing staff and volunteers. A big shout out to all those who have selflessly given time up with their families to help out so many animals. It is unbelievable how therapeutic it can be to help these animals in need. Without the support from the community to make this happen I couldn't imagine how this center could thrive like it does.
Brandi, 7/7/2022
---
Cooper
We adopted Cooper on December 4th, 2021 from MoCo Mutts, and we have fallen in love with him (and thankfully, he has with us!). He is so very gentle and loving!! We could not have asked for a better dog!
Deb and Tim Cote, 7/6/2022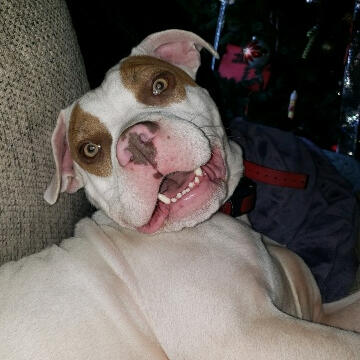 ---
Supporting MoCo Mutts
I appreciate the great work the folks at MoCo Mutts Rescue Center are doing for Morgan County. Our County has long been in need of improved care for stray and abandoned animals.
Morgan County Executive, Brian Langley, 12/7/2020
---
Filling the Void
As Sheriff, I am thankful for all the efforts that Lisa puts in, lending that helping hand. In a small rural community, where resources are limited, it means a lot to have a private group step up.
Sheriff Wayne Potter, 12/6/2020
---
Thankful for MoCo Mutts
Before MoCo Mutts came to our county, stray and neglected animals had zero hope of a better life. That has all changed thanks to the amazing work of MoCo Mutts!
Helping Paws Animal Network Member, Amy Starkey, 12/5/2020
VOLUNTEER
Volunteering is one of the best ways to help us! We're always in need of more volunteers. Click the button below for more information on volunteering with us.
---
---
DONATIONS
The MoCo Mutts Rescue Center is a 501(c)(3) non-profit organization and donations are what keep us going! We accept a variety of donations. Click the button below for more information on donating.
---
KROGER COMMUNITY REWARDS
Do you live in Tennessee, Northern Alabama, or Southern Kentucky and shop at Kroger? If so, you can help MoCo Mutts at no additional cost or work for you! We are part of the Kroger Community Rewards Program, which will give back up to $2,500,000 on an annual basis to participating organizations based on their percentage of spending as it relates to the total spending of all participating Kroger Community Rewards organizations.All that you have to do is register your Kroger Plus Card online and click "Enroll." You can then search MoCo Mutts Rescue Center by name and link your Kroger Plus card to MoCo Mutts. Whenever you shop and use your Kroger Plus card (or alternate ID), we will earn a donation. If you do not have a Kroger Plus card, you can get a new one for free and link it to us.
---
FUNDRAISING EVENTS
We regularly hold fundraising events, like online auctions, events at Lily Pad Hopyard Brewery, and an annual yard sale. Click below to check out our Events page to see what events are happening soon!
Volunteer
The Importance of Volunteering
Although we currently have a roster of over 20 volunteers who help us, we could always use more! Most of our volunteers dedicate a few hours 1-2 times a week. Even our leaders, Lisa and Tracy, work on a voluntary basis — they volunteer 7 days a week for 10 hours or more each day.However, these animals need our help and care every single day. We rely on volunteers to help and care for our animals to the best of our abilities.We would love to have 3-4 volunteers throughout the day to provide the animals extra playtime, brushing and socialization/cuddles.None of our volunteers or board members are paid. We do have two part-time employees to handle some of the kennel chores to ensure all daily tasks are completed whenever adequate volunteers are unavailable. This also allows Lisa and Tracy to focus on management and other tasks.
Volunteer Responsibilities
Taking the dogs outside

Feeding

Watering

Cleaning the kennels

Washing the food bowls

Doing the laundry

Hands-on time with the animals

Changing litter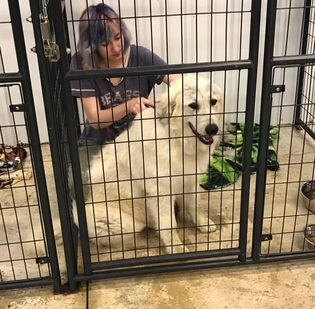 Apply to Volunteer
In order to volunteer, you must be 16 or older. We do not run background checks, but we do interview the volunteer applicants to get a sense of who they are. As they are in training, they will work with Lisa and Tracy, as well as the more experienced volunteers.If you're interested in volunteering with us, click below to fill out the application.
FINANCIAL DONATIONS
MoCo Mutts Rescue Center couldn't operate or exist without the support of our generous donors! We do receive some funding through the county government, but it's very little in comparison to the amount that's needed to care for our animals. To donate funds directly to our organization via PayPal, click the Donate button below.All financial donations are used to help cover our operating costs, which include rescuing, feeding, vetting, housing and transporting animals, as well as recurring expenses such as our mortgage, insurance, utilities, and vehicle and building maintenance. We do have two part-time Animal Care Technicians employed at this time due to a lack of sufficient volunteers.
---
ITEM DONATIONS
Aside from financial donations, we also accept a variety of item donations. We are always in need of:
Dry food (for cats and dogs of all ages)

Canned food (for cats and dogs of all ages)

Treats

Tractor Supply Co. Pelletized Bedding (used for cat litter)

Large and heavy duty trash bags

Liquid laundry detergent

Bleach

Paper towels

Portable kennels

Stationary kennels
You can also visit our Chewy wish list to purchase items needed for our Rescue:
HOW TO DONATE ITEMS
You can call us at (423) 628-5060 to arrange a curbside drop off. If you purchase items online, you can have them delivered here to the Rescue at 7920 Morgan County Highway in Sunbright, TN.
---
KENNEL SPONSORSHIPS
MoCo Mutts offers Kennel Sponsorship for individuals, families, children, companies or organizations who want to offer support for the animals in our care. Sponsorships can be made in memory of or to honor a beloved pet, person(s), organization or company.By sponsoring a kennel for 6 or 12 months, your tax deductible donation will help ensure that the animals in our care will receive the attention they need until they find their forever home.Your kennel sponsorship will be recognized with a plaque displayed at the Rescue.6 months: $183 yearly or $31 monthly
12 months: $365 yearly or $31 monthlyIf you are interested in sponsoring one of our kennels, please click the link below to fill out a sponsorship application.
Supporting Friends of the Rescue
---

---
WEDNESDAY, FEBRUARY 1 THROUGH FRIDAY, JULY 7, 2023
Spring Fling Quilt Raffle
Tickets are available for this beautiful custom made quilt 68"x82." Made by Kurt and Annie Hays.
1 ticket for $3.00
2 tickets for $5.00PAYMENT OPTIONS:
PayPal: mocomuttstn@gmail.com OR cash/check at the rescue OR send a check payable to MoCo Mutts Rescue to P.O. Box 127, Sunbright TN 37872. Please include a note with your name, address and a phone number where you can be contacted to send your tickets.The drawing for this beautiful quilt will be July 8, 2023 at our yard sale. No need to be present to win.

Frequently Asked Questions
Is this the only animal shelter in Morgan County?
Yes, we are the only animal rescue in Morgan County. We are also committed to staying No-Kill, meaning we will not euthanize for space.
---
What is the adoption process?
Potential adopters must first complete an application prior to choosing a dog or cat. The staff will review the application and will check vet references and adoption criteria. Once approved for adoption and upon selection of a desired dog or cat, a home visit will be conducted to ensure suitable accommodations and compatibility with any current animals in the home.
How much are adoption fees?
Dog adoption fees are $150-$250. Cat adoption fees are $65 per kitten, $45 per adult cat and $20 per barn cat.
Will I need to cover vaccination or neutering/spaying the animal I'm adopting?
All animals will be vaccinated and neutered/spayed prior to adoption.
---
STRAYS
Do you take in strays?
Yes! Call (423) 628-5060 to report a stray and to make arrangements. If you can safely detain and transport the animal to us, we will prepare a kennel prior to your arrival. We can also loan traps for animals that are feral or fearful if you are comfortable performing this task yourself. Otherwise, contact the Rescue when you see the animal or know when the animal is around and we will try to come to you and trap the animal.
On your Facebook page, it says you have a three day hold on strays. What is that policy for?
There is a law that requires we hold strays for a minimum of three days while looking for the owner.
How long do you hold animals for?
We are operating at an extremely full capacity, and we immediately post all stray intakes on our Facebook page. We hold the animal for the legally-required 3 days, and if the owner is not located in that time, we begin the process of preparing the animal for adoption by vetting them, spaying/neutering and getting them vaccinated. If the owner does step forward, we will allow the owner to claim the animal without a fee.In cases where the animal is hit by a car or otherwise injured/sick, we take the animal to the vet for emergency treatment and, if possible, maintain the animal at the Rescue. If the owner is found, we do ask that the owner reimburses us for medical expenses incurred during our care of the animal. We will also allow the owner to surrender the animal if they so choose. The animal's safety and well-being is our number one priority.
---
PAYMENTS
Does it cost to bring in an animal?
No, we never charge. However, we are always happy to accept a donation to offset our expenses.
---
SURRENDERS
Why can't you take my dog the day I call?
We do accept owner surrendered animals when space is available. Strays, police calls and injured animals are priority as those animals currently have no one to care for them. If space is not available, we will add your request to a waiting list.
---
OTHER
How do you keep your spirits up seeing so many abused and neglected animals on a daily basis? How do you do this mission daily?
Since 2020, we have saved over 3000 animals alone. Watching the transformation from broken-hearted, sometimes broken-bodied, sick and abused animals to loving, happy animals going to their forever home is our reward for our time and effort. The animals are our reason for doing what we do; however, you do bring up very real problems in the animal rescue world where we deal with higher than average incidences of compassion fatigue, depression and even suicide due to the overwhelming numbers of abused, neglected, injured and ill animals that inundate rescues and shelters everywhere. In addition to caring for the animals, we also try to watch and support each other and try to interject humor and fun whenever possible and work on team-building and socializing our in the community. We do the best we can and try to focus on the hundreds of animals we've saved.If you see any of the volunteers out and about, expressing appreciation and gratitude helps. :)
Local Resources
Planned Pet-Hood
Planned Pet-Hood (PPH) is a low-cost spay/neuter clinic in Harriman, Tennessee. Their goal is to make high-quality, affordable surgery available to all pet owners in our area, which will hopefully help reduce the number of stray animals on the streets and the number of homeless animals that are euthanized in shelters.
For the Love of Paws, Inc.
For the Love of Paws, Inc. is an organization in Scott County, Tennessee that provides low-cost spay and neuter services and educational opportunities that promote responsible pet ownership.
Morgan County Animal Hospital
Morgan County Animal Hospital is Morgan County's only full-service veterinary hospital. They are open five days a week and the first two Saturdays of each month to serve the cats, dogs, and other small animals of Morgan County and the surrounding areas.
Upchurch Animal Clinic
Upchurch Animal Clinic is located in Jamestown, TN and is a veterinary office that specializes both in small and large animals.
---
Need to Surrender Your Pet?
Surrendering your pet can be an incredibly difficult decision, but sometimes it may have to be done. Please review the following resources before surrendering your pet:
If these resources don't address the circumstances you're experiencing, then you can call our Rescue at (423) 628-5060 and we may be able to take your animal if we have space available. We give first priority to strays, law enforcement calls, and hurt or sick dogs or cats.
---
Additional Resources
BlindDogs.net: a great resource with plenty of information about pet care, from general questions to information about specific health issues and impairments. Much of the information is centered around handicapped dogs.

The Blind Dog Rescue Alliance: works to educate people about living with visually impaired dogs. The site has tips for living with visually impaired dogs, as well as stories and videos about the amazing things that visually impaired dogs can do.
Pet behavior problems can seem overwhelming to deal with, but often can be managed with the help of a little knowledge and effort.
Training Classes
Sometimes we could all use a little help in this area, no matter if it's a pet we've had for a long time or one that's newly adopted! Here are some resources to help with this:
Pet Behavior Library
This online library, compiled by Animal Humane Society, contains tried-and-true methods for managing many common pet behavior problems as well as tools for evaluating situations that may require additional sources.
Sometimes, pet owners find themselves facing hardships that affect their ability to care for their pet. These resources may help you address these challenges.If you are unable to find assistance through these resources and are no longer able to care for your pet, please contact us to surrender your pet.
Organizations That Provide Assistance for Life-Threatening Illnesses and Injury
These organizations may be able to help if your pet has overwhelming medical costs that prevent them from receiving care:
Location-Specific Organizations
Brown Dog Foundation: __Tennessee Only.__ Helps families who are in temporary financial crisis when their pet requires life-saving treatment or life-saving medications.

Jake Brady Memorial Fund: __Ohio only.__ Provides funding for corrective, suitable, and life-saving medical treatment to companion animals of families in need.

Fairy DogParents: __Massachussetts only.__ Maximum $800 grant per dog. Email fairydogparents@live.com to ask about assistance.

Fetch a Cure: __Virginia, Maryland, and the District of Columbia only.__ For pets with confirmed diagnoses of cancer.

STARelief and Pet Assistance: __Connecticut only.__ Provides financial assistance for canine cancer treatment to residents that are experiencing financial challenges, senior citizens, sick and/or terminally ill, and U.S. military veterans and their families.

Emma's Foundation for Canine Cancer: __New England area and Florida only.__ Specifically helps with canine cancer.

The Xena Fund: __Florida only, specificall Key West and Lower Keys.__ For owners on a fixed income and helps with emergency care for pets.

Sergie Foundation: __North Carolina only.__ Provides assistance to families unable to afford emergency, life-saving care. Does not fund ongoing/chronic issues that require continual treatments (ex: medicine, insulin, cancer, diabetes).

Guide Dog Assistance Fund: Canada only. Helps to fund emergency/unexpected care for working guide dogs (trained at registered schools anywhere in North America) living in Canada. Will fund before care and up to three months after care.

The Farley Foundation: __Canada only.__ Assists people in need by subsidizing the cost of veterinary care for their pets.
Help with General Veterinary Fees and Other Supplies
Pay Veterinary Fees on Credit
These work like credit cards for veterinary fees. Your clinic must be enrolled to use these.
Need a Service Dog?
Visit here for more information on the costs of having a service dog and how to get one.
Moving with pets can be a difficult and stressful process, but here are some resources that have been compiled by Animal Humane Society for people in search of pet-friendly housing.
Sometimes, pet owners find themselves in situations where caring for their pet is no longer a possibility. Choosing to re-home a pet can be an incredibly difficult decision, but MoCo Mutts is here to provide caring advice and resources for those who are searching to re-home their animal.
Try doing the following before surrendering your animal:
If you can, give yourself time to re-home your pet. Try not to rush finding a new home for the animal to ensure you find somewhere that is the best possible fit for them. This process can often take weeks, if not months.

Increase adoptability by having your pet spayed/neutered, up-to-date on vaccinations, and groomed.

Spread the word to increase your chances of finding the right home for your pet. Ask everyone you know and trust to help. Use social media to help spread the word, as well as neighborhood apps.

Try the Adopt-A-Pet re-homing tool, which gives pet owners the ability to be more involved in the re-homing of their pets. Set up a pet profile and people who are interested will apply to adopt. Adopt-A-Pet has staff who review posts to prevent abuse such as breeder sales — making it a safer alternative to other online marketplaces, like Facebook Marketplace and Craigslist.

Use caution when considering unknown individuals or families as your pet's new owners. Hold the initial meeting in a safe, public place and ask questions to screen potential adopters. (Are there other pets in the house? Have you established a relationship with a veterinarian? Do you have a fenced in yard? How many hours a day will the animal be left alone?)

Share your expectations for your pet's new home. If you wish to stay in touch with your pet's new family, make that clear up front.

Contact breed-specific or foster-based rescue groups. Rescue groups that focus on caring for and helping families re-home a specific breed are available for almost any type of dog. Organized by people who have extensive knowledge of a specific breed, these groups provide a variety of opportunities for your pet, including the possibility of your pet staying in foster care until a new home is found.

__Never abandon your animal.__ If you don't have success re-homing your pet, get in touch with us at MoCo Mutts and try to surrender your pet to us. If we don't have the space to take your animal, we can help point you in the direction of someone who might be able to.
Is Your Pet Lost?
A lost pet can be a frightening experience for any pet parent. Immediate action is crucial, but where do you start? Follow the steps below for the best chance of a reunion.What to do immediately after your pet goes missing:Walk the neighborhood: Take a walk around the immediate area and speak to any neighbors, postal service workers, or anyone who may have seen your lost pet. You know your pet best, so look in areas that your pet may have been interested in or comfortable hiding in. Most pets are found close to home.Share their scent: Put a couple of your pet's favorite items near the most common entry ways into your home. The front door and the door into your yard would be the best locations. You can include items like their favorite bed, blanket, toys, their litterbox (if cat) and any other items they use frequently. Their scents may help them find their way home.Next Steps:1. Search for your lost dog or cat on Petco Love Lost: MoCo Mutts Rescue Center has partnered with Petco Love Lost to easily help search the national lost and found database and create a searchable/shareable alert for your missing pet. Upload a a picture of your pet or searching by location. Powered by facial recognition technology, Petco Love Lost helps match found animals to reported lost pets nationwide. Visit Petco Love Lost and search now!If you haven't done so already, be sure to register your pet on Petco Love Lost to do things like create a Lost listing that can be shared and print out premade fliers. You can also receive fliers via text message or email.2. Use the sharing features on Petco Love Lost to distribute your lost pet listing on other social media outlets like Facebook, Craigslist, and Nextdoor.3. Make sure your pet's microchip information is updated: If a finder takes your missing pet to be scanned for a microchip, you want to make sure that all the information is correct so that you will be contacted immediately.4. Check with your local animal services and animal shelters: Call to see if your missing pet is at one of these locations. Many businesses will allow you to place a lost report with them, where you can leave a photo of your pet and your contact information. MoCo Mutts regularly posts lost or found pets on our Facebook page.5. Continue to spread the word about your missing pet: Make sure any posters or fliers made are large and bright with only relevant information on it. Place in high traffic areas and in the vicinity of where your lost pet went missing.6. Don't give up! Finding a lost pet can take time. Remember to regularly check websites that you have posted your lost pet on and make updates as needed. New lost and found pets are added regularly to Petco Love Lost and to your local shelters.
Get in touch with us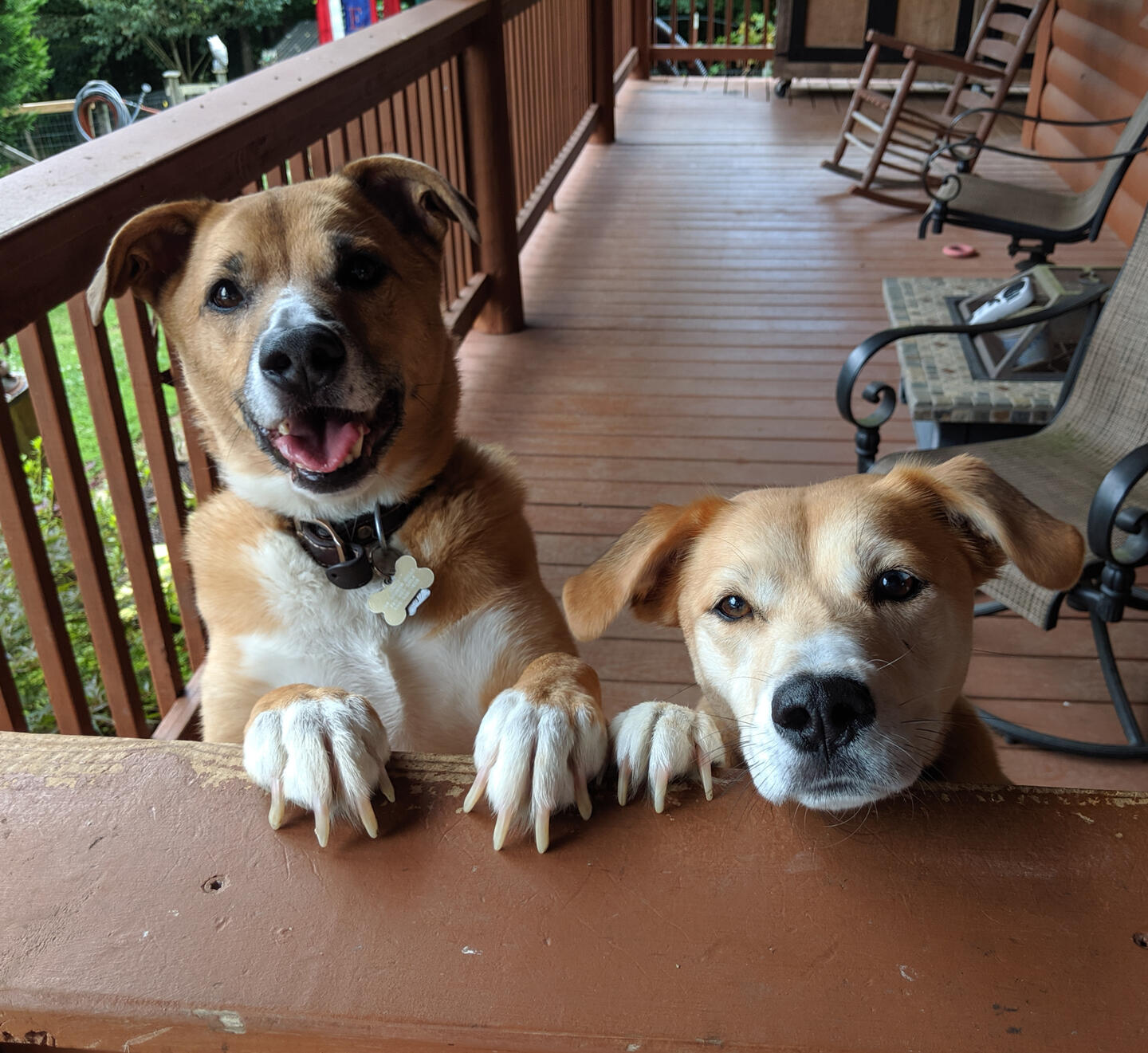 MoCo Mutts Rescue Center
P.O. Box 127
7920 Morgan County Highway
Sunbright, TN 37872